Studying and applying God's Word to our lives is a top priority at LFC. We believe that the Bible is God's inspired and infallible Word, and that it His guide to us about how to know Him, serve Him, and live our lives in a way that glorifies Him.
Please click on our weekly "CONNECTION POINTS" for direct links to our Zoom and Livestream options.
CONNECTION POINTS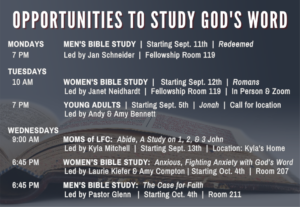 Various small groups of couples and mixed adults m
eet throughout the week for Bible study and fellowship.
Contact Pastor Glenn Cohrs at gcohrs@lfc.org
for more information and for times and locations of Bible study groups that meet throughout the week.