Sunday school
For all Ages: Children, Youth and Adults
Our Sunday School program is designed to lead children and adults in studying the
Word of God
, introducing them to
Jesus Christ
and helping them to develop a stronger walk with Him. The main textbook of our Sunday School is the
BIBLE.
Our studies help us understand this Book and changes us to apply its truths in our daily lives.
NEW Sunday School winter semester: January 16th @ 9:45 am!
Children, Youth & Adults!
NEW ONLINE OPTION FOR CHILDREN & ADULTS CLASS:

ONLINE ACCESS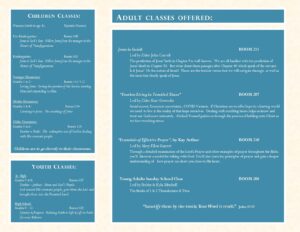 CHILDREN'S SUNDAY SCHOOL: 3 yr. olds, Pre-K, Kindergarten – 12th Grade.