Covid-19 Update and Info
Friday, April 2, 2020
LFC Church Family,
Holy Week is upon us, and we are being treated to a vivid, first-hand reminder that when all of the traditions, pomp, and normalcies of this season are stripped away, we find that at the very heart of Christianity, at the very heart of our faith, is the finished work of Jesus Christ on the cross and through the resurrection. Many things about our faith and practice are important and cherished, but the bodily resurrection of our Lord is the very cornerstone of our faith. Struggles come, uncertainties loom, but because of our living Lord, we have a true living hope! God Himself reminds us in Scripture, through the inspired pen of the Apostle Paul:
Where, O death, is your victory?
Where, O death, is your sting?"
The sting of death is sin, and the power of sin is the law.
But thanks be to God! He gives us the victory through our Lord Jesus Christ. (1Cor. 15:55-57)
So, yes, things are different this year. Yes, cherished traditions must be put on hold. Yet, this remains: Christ is Risen! He is Risen Indeed!
And, if this remains, we have, indeed, the fullness of hope. We have, indeed, a reason to celebrate. The "house" may be a bit in shambles, but the cornerstone remains!
And really, that's all we've ever needed.
(Watch this! https://www.youtube.com/watch?v=OX-Xt-vBYPc)
As Holy Week approaches, we look forward to celebrating our Lord's resurrection together. Here are the ways you can stay connected with the church family during this special season.
Though the circumstances are different, we are still on mission! Who are you inviting to watch the church services? Who are you inviting to join you via Zoom or live stream in a Bible Study, Pray and Connect meeting, or youth group meeting? Who are you calling to check in on and pray for? I think people are more powerfully open to the message of the Gospel than in years. How will you be faithful (and creative) this week to be His hands and feet and share the hope of Christ?
Join us for a special Palm Sunday service, this Sunday at 9:30 am. We will be starting our service off with our (kind of) traditional children's Palm Sunday processional. You can be a part of the service on our website at https://www.lfc.org/worship-service-video/ or on Facebook Live.
The Pastors will be offering our annual Holy Week devotional, but this year via video. Each day, starting Monday, you can go to lfc.org and view the devotional. This year, each video devotional will end with a challenge, some questions to discuss, or some suggested application to put into practice. Our hope is that they will help you and your family prepare for the celebration of the resurrection.
One of the most cherished services during Holy Week is our Good Friday Tenebrae service. Join us on Friday, April 11th at 7:00pm for this powerful live-streamed Service of Shadows." You can be a part of the service on our website at https://www.lfc.org/worship-service-video/.
Even though the community Easter Egg hunt had to be canceled, we still want to have some fun with the eggs! Here are the details!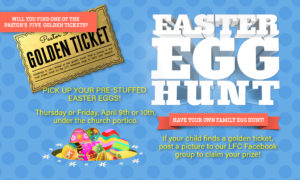 Pastor Ryan will be leading an Easter Sunrise service on Easter morning, April 12th at 6:30 am via Zoom at https://zoom.us/j/168923821 For those of you who can, we want you to log on via Zoom and go outside and show us all the beautiful sunrise at your house. If you can't make it outside, join in anyway!
Join us for our Easter worship service at 9:30 am on April 12th. Even though things will be different, the most important thing remains-He is Alive! You can join the service via live stream on our website at https://www.lfc.org/worship-service-video/
We want to keep the church family updated on our giving and finances during this time. I'm very thankful to report that for the last week, our general offering giving was over $19,000, which is right around where we need to be on a weekly basis. As we have seen time and time again over the years, God continues to faithfully meet our needs as a church through the obedience and faithfulness of His people.
The Well continues to serve families in need each Wednesday and Saturday from 10 AM-12 PM through an outside pick-up of a pre-made bag. During this crisis, we have had many people coming to The Well and God has provided great opportunities for Gospel conversations. Please continue to pray for The Well and consider donating food to keep our pantry stocked! If you are able to donate any of the items listed below you can either put them in the box at the front entrance of the church or drop them off at The Well when it is open (Wednesdays and Saturdays from 10 AM-12 PM).
Well Food List: peanut butter, jelly, pasta, pasta sauce, mac and cheese, cereal, rice, boxed mash potatoes, canned veggies and canned potatoes, soup, canned tuna and chicken, applesauce, canned fruit
Other Items: laundry detergent, dish soap, toothpaste, shampoo, soap, toilet paper, paper towels.
All of the above-mentioned links and more are in the attached "Connection Points" PDF.
Church family, don't forget, the One who conquered sin and death is the One who holds you in His hand! Have a blessed Holy Week. See you in church!
Pastor Aaron