The purpose of the Women's Ministries of Lafayette Federated Church is to Incorporate all the women's activities and programs into one team with our focus being one body united for Christ.
The Vision of the Women's Ministries of Lafayette Federated Church is to glorify God by striving to meet the spiritual, physical, and emotional needs of women in all stages of life; to provide experience and resources that will encourage, support and equip each one to use the gifts God has given her to serve and share her faith in her own home and community.
There are many different ways to get involved in meaningful ways through the Women's Ministries at LFC.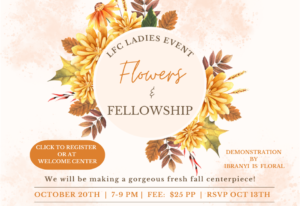 We are so excited about the events we are planning for 2023.
EDUCATION & FELLOWSHIP:
ALL OF OUR WOMEN'S BIBLE STUDIES ARE AVAILABLE IN PERSON AND ONLINE.
Women's Tuesday Morning Bible Study at 10 AM
Women's Wednesday Night Bible Study at 7 PM (In-person & Zoom)
Compassion Ministry
Women can use their gifts and abilities in several areas to bless and meet the very real needs of others. These opportunities include:
Meals in times of need
Funeral repasts
Prison ministry
Card and visitation ministry
Outreach and Service
There are many opportunities within the church for women to use their gifts in service and outreach. These opportunities include:
Planning and implementing the annual Women's Conference
Hospitality Ministry
Kitchen/Tablecloths
Mission house upkeep
Contact Sue Oberg, Donna DiSarno or Pastor Glenn Cohrs at gcohrs@lfc.org for more information.