Children are a treasure from the Lord, and at LFC we consider helping children come to know Jesus and follow Him as one of our greatest privileges and most important callings.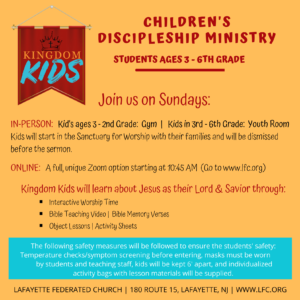 "Kingdom Kids" ZOOM Option is available every Sunday at 10:55 AM. Please click here for the direct link to the Zoom option. "Kingdom Kids" ZOOM
Contact Pastor Aaron Robb arobb@lfc.org for more information.